OUR
PRODUCTS
Above all, we specialize in manufacturing of power hydraulics components. Quality of our products is indisputable. For example, it can be confirmed by the fact that LiuGong Dressta Machinery (former HSW S.A.) decided to substitute American parts, which had been used earlier, with our components.



NEW
As a result of R&D works, in June 2020 Fabryka Maszyn Lubaczów Sp. z o.o. has completed investment project, that allowed to extend the catalogue of products and services with the possiblity of producing shaped base of toolbox of device for infrared welding and/or ultrasonic welding of cars interior fittings. For example, these could be: entire cockpit components, door interiors, dashboards, etc.
Elements of car interior fittings are usually made from termoplastic materials. The individual parts are welded using infrared radiation or ultrasound. Shaped base of the tool cassette of the device for welding these elements, especially the cockpit elements, is composed of from four to six adjacent lateral planes of the component segments with a smaller volume compared to the volume of the entire shaped base, each segment is equipped with mounting elements for positioning the matched segments in the form of a complete shaped base.
Advantages of the introduced product:
a) reduction of labour intensity and material consumption for producing smaller components compared to production of one-piece base
b) shaped base divided into segments allow for replacing single segments in case of hidden defects and repairs of welding device or in case of corrections related to the lifting of the appearance of a car interior design element
c) by replacing the segment it is possible to produce different types of plastic elements
d) handling smaller segments is more convenient and safer during the tool making process.



FM Lubaczów manufactures: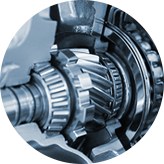 HYDRODYNAMIC TRANSMISSIONS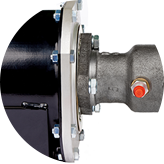 BRAKE MASTER CYLINDERS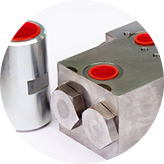 VALVES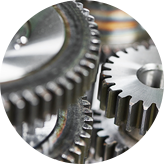 DRIVE ELEMENTS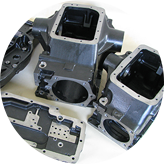 MISCELLANEOUS SPARE PARTS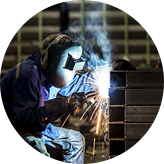 WELDED STRUCTURES
- elementów typu wałek, tarcza oraz wirników łopatkowych z dokładnością do 10µm
If you are interested in any of the aforementioned services, contact us and tell us what you need, and we will draw up a customized offer for you.